March 08, 2018
Anatomy Of Our New Logo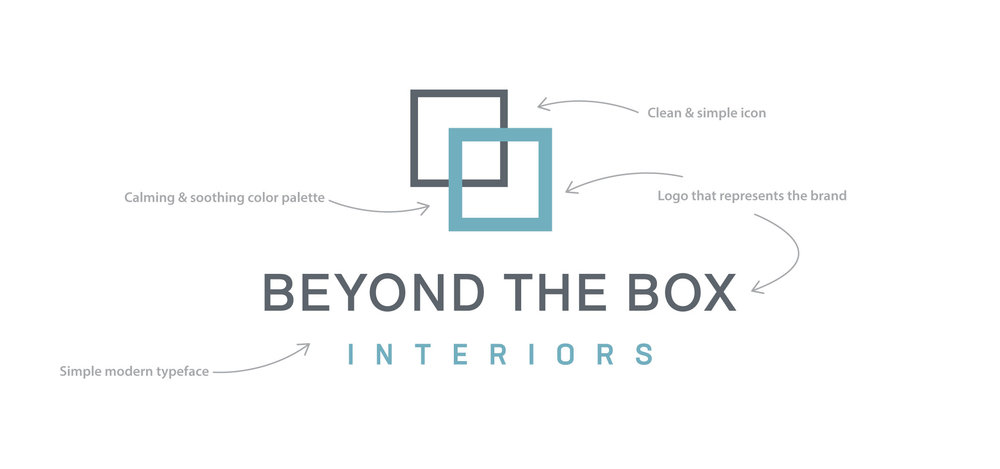 Our New Look
Do you love it as much as we do?! We sure hope so! We recently rebranded our firm so that our new logo & website now accurately reflect what Beyond the Box Interiors is all about: creating functional, visually pleasing designs that are "beyond your dreams". Our business model changed some time ago from e-design only to a full-service design firm so it was only fitting that our logo & website followed suit. Hence the transition from our old logo which was a big gray box (due to the fact that our e-designs were delivered straight to your door in a gray box) to our new logo that we feel is truly Beyond the Box!
Clean & Simple Icon
One gray box. One blue box. Simple, clean and to the point. We did mix it up a bit with making the blue box slightly more substantial than the gray one. (You will learn why in a second–we promise there is logic behind it). Another bonus feature that our new icon offers is that it can now stand alone without the name of our firm having to be attached and it still accurately represents our brand and message.
Logo that Represents the Brand
As we talked about earlier, our firm creates functional, visually pleasing designs that you will truly fall in love with and we feel that our new logo expresses those same feelings. More literally (aka the logic behind it), the blue box is slightly more substantial because it gives the effect that it is protruding "beyond" the gray box. It is reaching forward–going beyond–just as we go above and beyond to make your design dreams come true. We want to create designs that are "beyond your dreams".
Calming & Soothing Color Palette
Neutral + Calming Blue. First of all, who doesn't love gray? You tie that in with our new lovely hue of blue and you have a color palette that is not only eye-catching but also soothing and pleasing to the viewer. We also made sure to include both the gray and blue colors in the icon itself as well as the name of our firm so everything ties together nicely.
Simple Modern Typeface
Our new typeface is fresh, clean, and modern. It is simple and easy to read yet still visually pleasing. The simplicity also ties back to the icon itself being more straightforward and uncomplicated compared to our previous logo.
And (as always) Happy Designing!
---
Need design assistance? Begin your own design journey with Beyond the Box Interiors.