March 08, 2019
Chic Kid Spaces
The second installment of our continuing series on "kids spaces" focuses on how to use kid-friendly elements to bring a room together. A well-designed kid space should include items that are multi-functional, easy to clean, and adjustable as they grow. Elements that foster their independence and promote healthy self-esteem are a plus. With a little creativity, you can create a space that will be a hit with your children and their friends during their early years of life.
Missed our first installment on "kids spaces"? Read about our "Inspired Finds For Your Little One" here.
It's All in the Details
A chic kid space begins with a paint color palette — a bright yet calming color scheme will liven up the room. Mount bookshelves at the appropriate height so the little ones can have easy access. Add hooks on the wall to hang bags, dress-up clothes, or other items. Be creative and turn a wall planter into storage for arts & crafts supplies. Purchase a table with adjustable legs so it can be easily be changed from a desk to a play table and don't forget the desk chairs. Create a lounge area with a beanbag chair that has a washable cover atop a brightly colored area rug. Complete the look with colorful and whimsical accessories to pull it all together.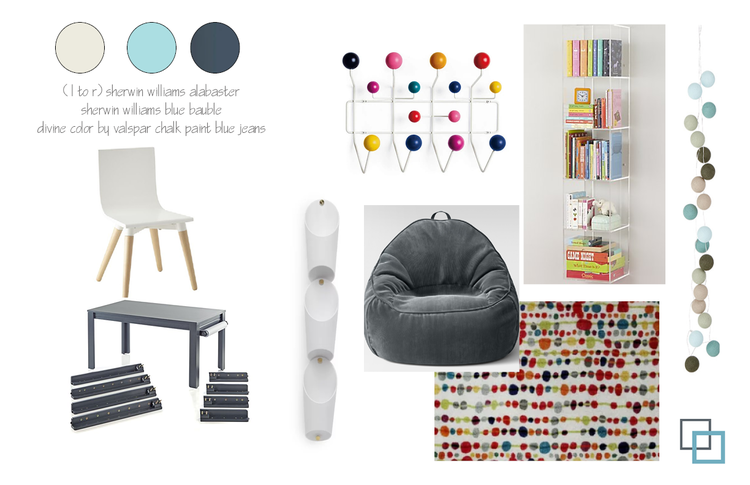 ---
Be Stylish: Get the Look
a) Eames® Hang-It-All® from DWR
b) Cotton String Light from Lifetime Kidsrooms
c) Acrylic Shelf Bookcase from Crate and Barrel
d) Beanbag Chair from Target
e) Mohawk Delerus Multi Rug from Hayneedle
f) Adjustable Kids Table from Crate and Barrel
g) Pint Sized White Toddler Chair from Crate and Barrel
h) Floralink Plastic Wall Planter for art supplies from All Modern
---
Need assistance with your kids space? Begin your own design journey with Beyond the Box Interiors.