March 31, 2021
How to Incorporate Bathroom Trends
One of the most important aspects of being a designer is staying on top of the latest trends and making sure we create spaces for our clients that are stylish yet functional. It is also important to note that trends may come and go so it is also imperative to recognize design elements that will stand the test of time. Here are some ways you can incorporate bathroom design trends into your own home.
Tile Size & Grout Color Matter
Larger wall tile is moving in and taking the place of smaller tile. While we will always love and appreciate the intricacy of mosaic tiles (and they definitely still have their place), there are some benefits to using larger tiles. Even in the most basic colors and shapes, large tiles make an impact simply because of their size. Using larger tiles also means fewer tiles are needed and that results in less grout. Less grout equals less cleaning and who doesn't love that?
Take a look at this gray subway tile. The pieces are about twice the length of traditional subway tiles and create a cool, clean, and completely original look. The band of white tile in the middle makes a substantial visual impact and it also encompasses the niche for a purposeful design element. This shower is anything but boring!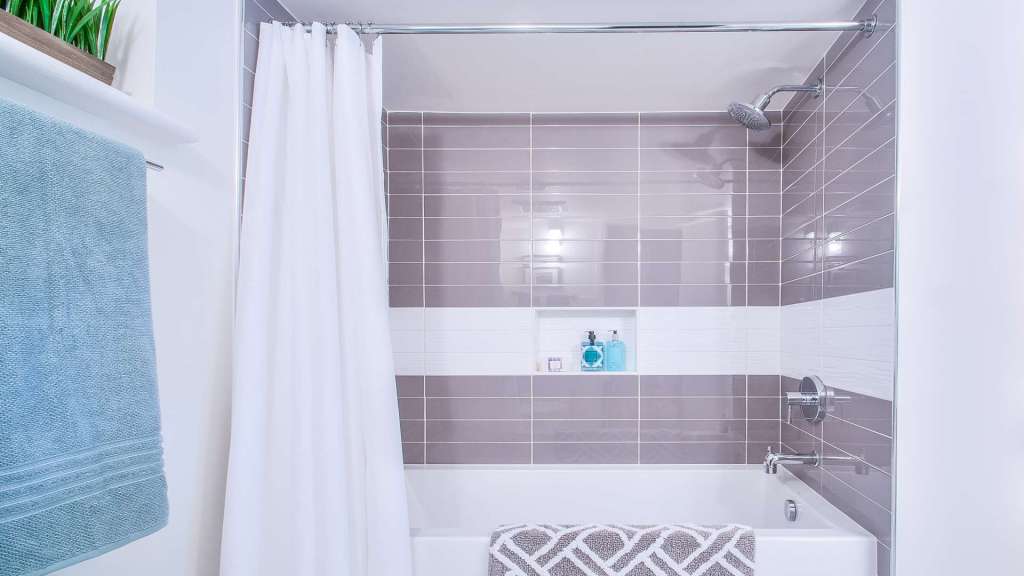 The larger-scale gray subway tile was also incorporated floor to ceiling behind the vanity. This helped tie the entire space together by bringing a more modern feel to the vanity area that is seen throughout the rest of the bathroom. Let's not forget about grout! A contrasting grout color was intentionally used to help accentuate the straight-stacked wall tile pattern.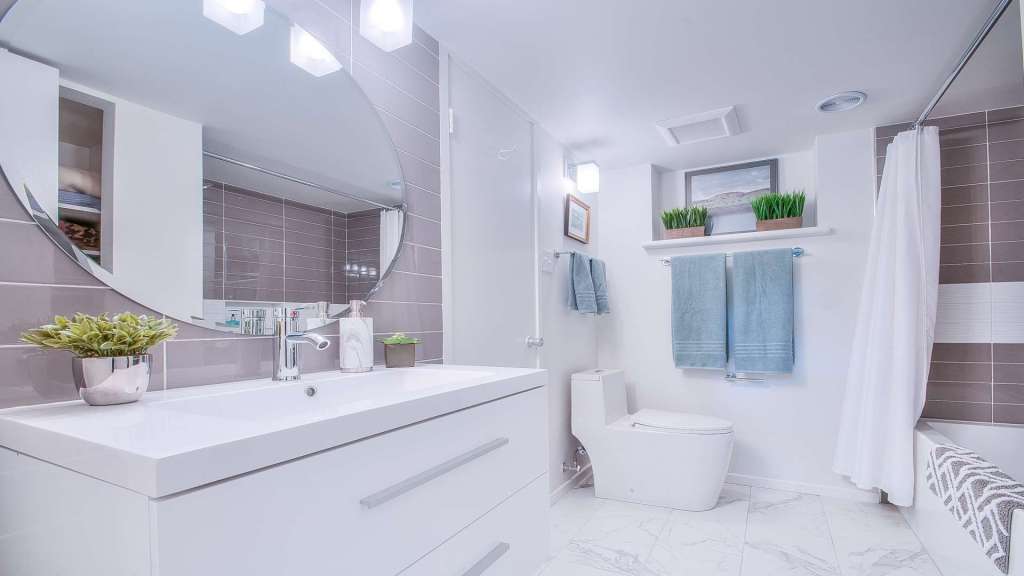 Be Unexpected
Decorative tile is certainly having a moment and we are here for it! While this isn't a brand new trend, we are glad to see it gaining momentum. One of our favorite ways to spice up a bathroom is to add a bit of decorative tile in an unexpected place. This adds visual interest in a way that is not at all overpowering. Actually, it has the opposite effect and creates a much-needed break for your eye, an exciting focal point, and a tie-in to the rest of the space.
This bathroom features classic white subway tile which will never go out of style while built-in niches provided the perfect place for visual interest. The niches are backed with an encaustic tile that has an amazing eye-catching pattern. And we would be remiss if we didn't mention that arch…oh la la! Also, notice the hexagon tile on the edges of the niche which is a subtle and perfect way to highlight the curve.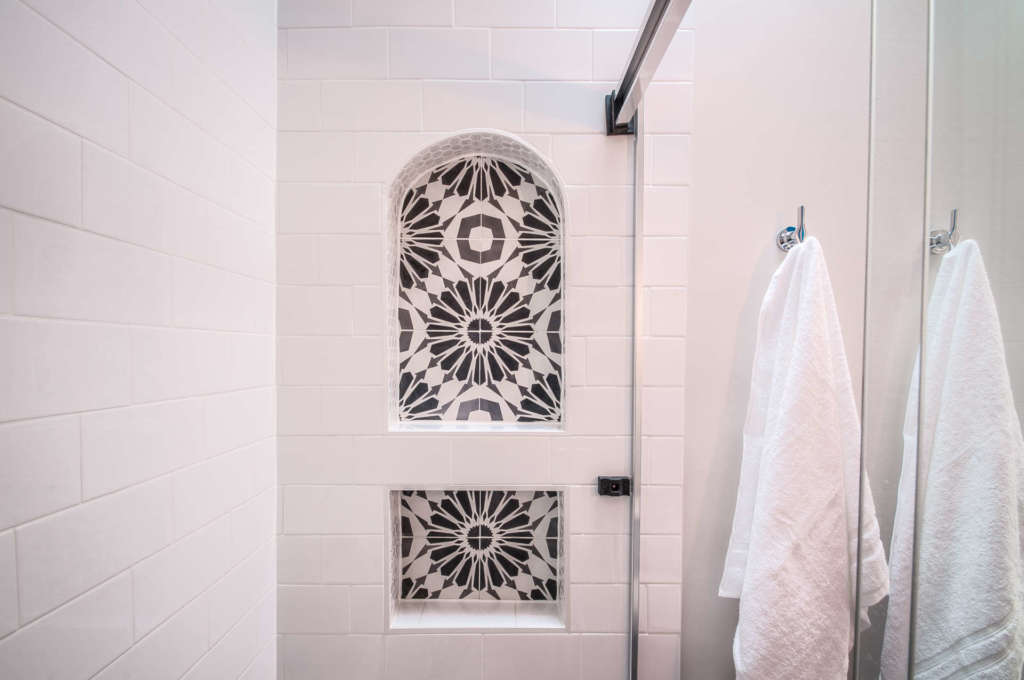 Unexpected elements don't end with tile….check out the wall dividing the vanity from the shower area. First of all, that paint color….yeeessss! And the curves in the lantern as well as in the opening itself are a nod to the arch that is showcased with the shower niche. It is all about highlighting certain elements that are all connected in a purposeful manner. This bathroom is dramatic in the best possible way! (There's more….additional photos can be seen here where we have one more unexpected surprise for you).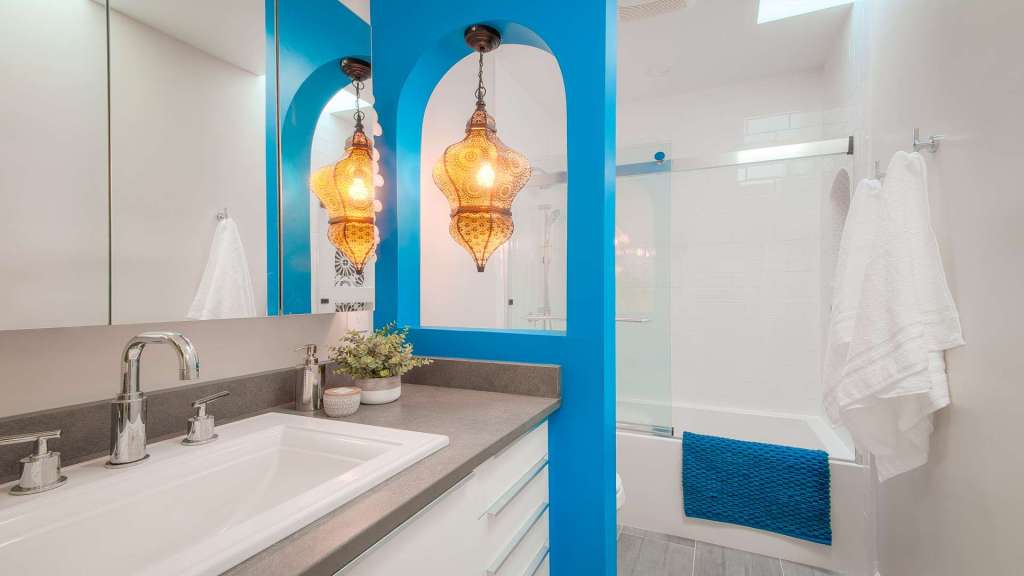 Neutral Palettes for the Win!
Gray and white continue to be popular colors for bathrooms. It is the perfect neutral background that provides longevity and also conforms to many styles whether you gravitate more towards traditional, modern, or somewhere in between. Bonus feature! Items such as towels and rugs can easily be swapped out over time for a changing color story that doesn't break the bank.
When you think gray and white, you can't help but think marble. Marble (or porcelain that mimics marble) continues to be a popular look in bathrooms and for so much more than countertops! This shower combines several design elements, large-scale tile, mosaic tile, marble-like porcelain as well as authentic marble tile. Each piece on its own is lovely, together they form an elegant oasis. This design is timeless and refreshing, a renovation for the ages.
The neutral color palette continues at the vanity area with deep rich blue-gray cabinetry paired with a quartz countertop. A large framed mirror the same color as the cabinetry ties the space together while also allowing for light to bounce around the entire bathroom. An ever so subtle blue paint on the walls brings a bit of color to this relaxing spa retreat.
Sometimes Color is the Answer
It's not all about whites and grays, some clients are looking to add a splash (pun fully intended) of color to their bathrooms. One important thing to remember is no matter the color you are trying to incorporate, it should make sense and jive with the entire style of the space.
For instance, the owners of this bathroom love the color green so a wall color was selected that meshes perfectly with the hint of green in the featured decorative tile.  A little green here and a little there makes for the perfect marriage of the entire space. Just remember, everything needs to speak to each other (i.e. the color story, the overall style, materials you use) in order to have a cohesive and well-designed bathroom.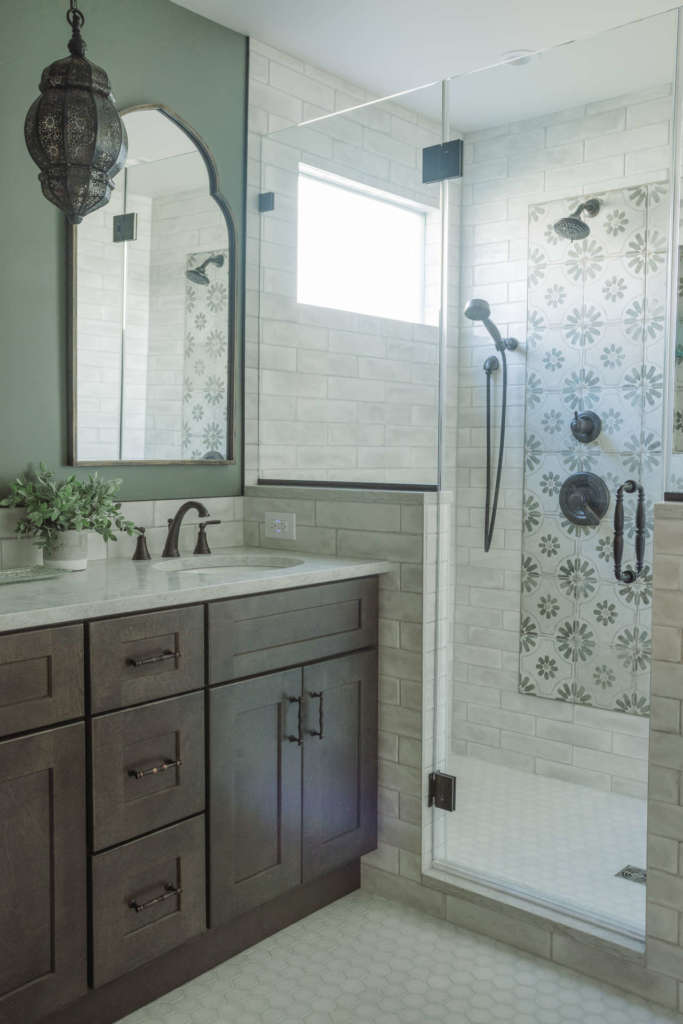 Other Features
Since we're always looking for the hottest new trend (and bonus if it makes a bathroom more functional), here are a few items we expect to be incorporating into upcoming projects.
Backlit mirrors and medicine cabinets – they are pretty and functional. Many have dimmable lights so you can crank it up for volume and dim it down to use as a nightlight. These would be great in bathrooms with little to no natural light.
Smart toilets – just one more way to make your home a smart home! These devices boast high efficiency, conserve water and come with an array of features such as heated seats, bidets, automatic lids, and self-cleaning options.
High-tech shower heads – with pods for essential oils or built-in blue-tooth speakers. Whatever it is that helps you relax in the shower, there's a showerhead for that!
Your Own Bathroom Trends
No matter your lifestyle or design aesthetic, the features in your bathroom should reflect you and your needs. Your space can be trendy but it also needs to be inviting as well as uber functional. Have two children that share a bathroom? Maybe consider a double vanity so they each have their own area to call their own. Does your master bathroom have a bathtub that you never use? Why not remove it and replace it with something that you will actually use like a hamper area or cabinetry for extra storage. Yes, trends are fun but they also need to be functional and make sense for you! Don't forget…you can also incorporate some trends that will truly be around for quite some time so your bathroom doesn't immediately become outdated in a couple of years.
And (as always) Happy Designing!
---
Need design assistance? Begin your own design journey with Beyond the Box Interiors.