February 23, 2021
Style Deep Dive: Transitional Design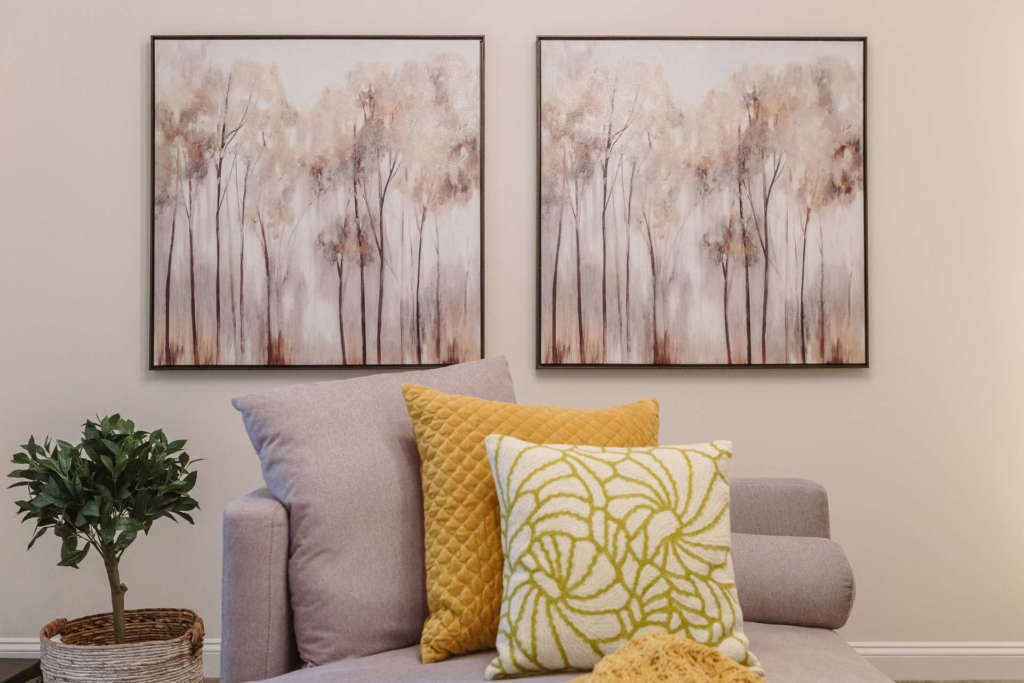 Transitional Design: What is it?
Ever heard the term "transitional design"? You may have wondered exactly what that means. Those words don't really paint a clear picture of design elements and color palettes the way other design styles do. Styles such as modern farmhouse, mid-century modern, and contemporary are so clear-cut we are able to conjure a picture in our minds. Modern farmhouse makes us think of wordy signs, gingham plaid, blues, grays, and tans. Mid-century modern reminds us of dark wood, brass accents, and a pop of earthy colors such as orange or green. Contemporary is clean lines, bright colors, and funky wall art.
Transitional style is, well, a transition between the modern and traditional styles. It incorporates elements from each and is a great way to showcase your favorite elements from two gorgeous styles. Typically, transitional design features a traditional color palette of whites, grays, and tans. Accent pieces such as rugs, cushions, wall art, and even window coverings incorporate the modern elements of color and pattern. (We love this list of transitional design must-haves from decorilla.com!)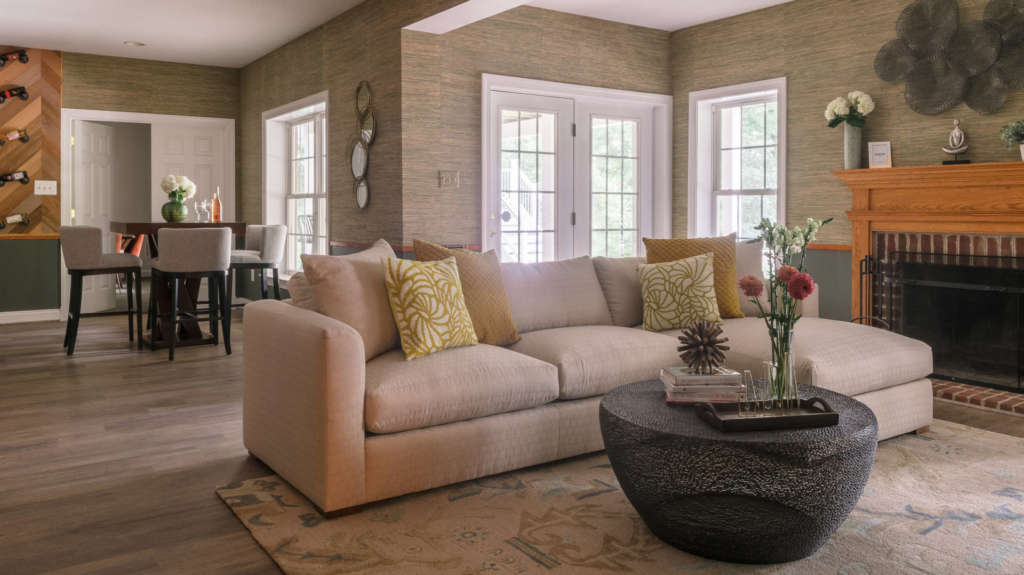 Easy Ways to "Transition" Your Home
Often times we encounter clients whose tastes gravitate toward contemporary but their house has traditional elements they don't want to disturb such as wainscotting or crown molding. Our suggestion — pair them with elements that suit your more modern style. There's nothing wrong with a fun, modern chandelier near the crown molding or a brightly colored, bold patterned rug to break up the wainscotting. This style is so versatile!
It's human nature for our tastes to evolve and change as we change, as trends change, as our family changes and our needs change. However, it is not easy to redecorate each time our tastes change. We invest a lot of time, energy, and money into the design of our home and, typically, this means updates to decor happen slowly over time. Transitional design is a great way to incorporate new pieces into an existing space. For example, you have a piece of modern art in your dining room that you absolutely love but your contemporary dining table doesn't fit the needs of a young family, no problem! You can trade in the modern glass top table for a sturdy wooden table that will be easy to clean and maintain with your kids…..but keep your art that you are swooning over! Reupholster your modern chairs in a fabric that is slightly more traditional. Add some accessories for some fun pops of color and textures. This is transitional style — a mix or midway point between traditional and contemporary design styles.
Kitchens & Baths, Too!
Kitchens and bathrooms are wonderful places to mix and match styles. Have a traditional backsplash that you don't want to remove? Add a contempo light fixture with exposed bulbs to modernize the room. A clawfoot bathtub with new tiles arranged in a modern pattern is a thing of beauty. Pair a more modern-looking accent tile with a traditional subway. Bonus points for the curved niche! There are so many ways to blend these styles, we could go on and on!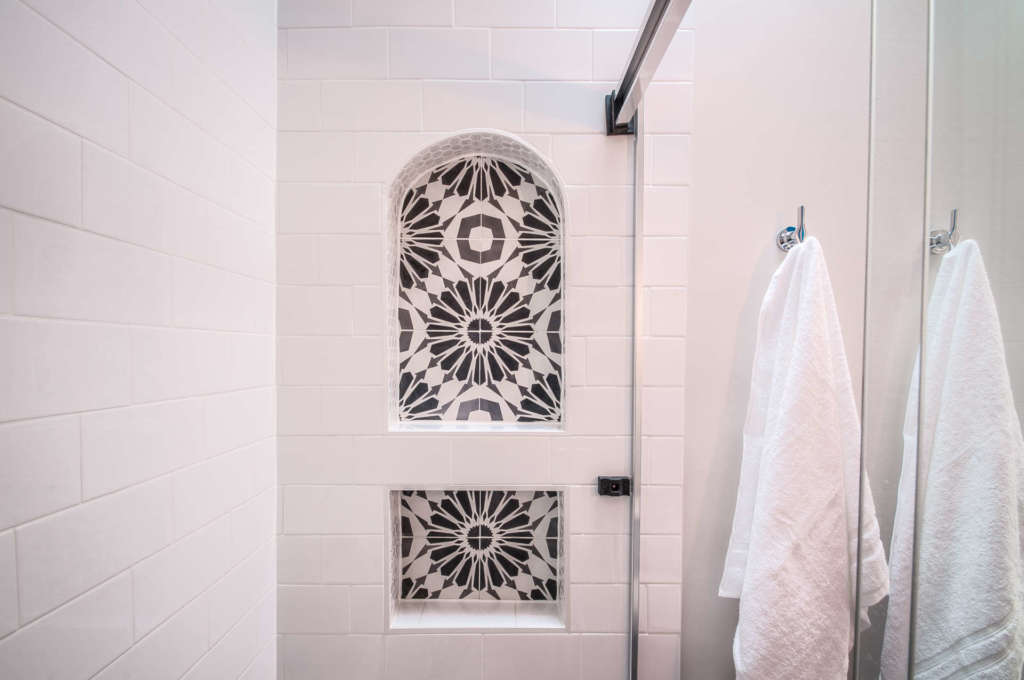 Here to Stay
The transitional style has been around since the middle of the 20th century. As the formal furniture of the 1950s made way for a more relaxed and comfortable living space, a transitional style was born. After this long, it's safe to say that this style is serving us well and is here to stay! So what are you waiting for? Grab your modern accessories and traditional tables, mesh them together, and let's start styling!
And (as always) Happy Designing!
---
Need design assistance? Begin your own design journey with Beyond the Box Interiors.